World Heritage Entrepreneurs
The world heritage sites in the South Baltic region are all striving to become more sustainable tourist destinations. Supporting and encouraging local businesses interested in sustainability is a natural and significant part of that ambition.
One of the aims of this website is to create an international network of entrepreneurs interested in sustainability and sustainable product development. The network facilitates best practice exchanges and international cooperation between Baltic Sea World Heritage sites.
Here you will find contact information to the entrepreneurs who have already joined the network.
VSI Irklakojis – Team Building Events on the Baltic Seaside
VSI Irklakojis provides an opportunity for visitors of the Baltic seaside to explore the amazing nature in an eco-friendly way.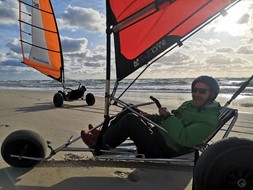 Whether it would be a small group on a canoeing trip to the nature sanctuary to observe the Dead dunes, a 20 km wild beach landsailing tour or outdoor team building event for your company, VSI Irklakojis guarantee  full immersion into the amazing nature of Curonian Spit – and strong emotions.
– All our conducted activities are meant to minimize carbon footprint, we choose to deal only with eco-friendly means of travelling and experiencing the nature, says director Matas Mizgiris.
Contact Information
VSI Irklakojis
Director: Matas Mizgiris
Kopų street 3–7
LT–93122 Nida
+370 618 81957
info@irklakojis.lt
Irklakojis
 Schillings Agricultural Business
The isolated island of Öhe is a special part of the National Park Western Pomerania and is located between the island of Hiddensee and the island of Rügen. The 75-hectare island is owned by the Schilling family since almost 700 years.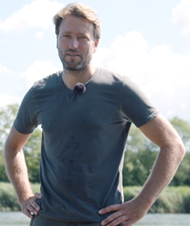 Due to the ideal landscape conditions on the island of Öhe, Mathias Schilling took up an agricultural business in 2009 and set up a cattle farming facility based on organic certification.
The passionate entrepreneur attaches great importance to ecologically and economically carefully produced meat in accordance with the EC organic regulation. Suckler cows are kept for 10 months in a natural way with subsequent pasture fattening for the calves.
The animals guarantee a regenerative landscape support and ensure the preservation of the natural biodiversity on site. But also the regional processing by a regional butcher and the local self-marketing of the exclusive meat brand "Insel Öhe" including short distances and an improved CO2 balance. Sales take place in the company's own restaurants and catering facilities.
The creation of jobs in a structurally weak region increases the awareness of the locals and creates a greater bond with the region. Over the years, Mathias Schilling has managed to expand his sustainable view by new ideas for regional coastal fishing. The new brand Hiddenseer Kutterfisch was created in cooperation with small scale fishers in a regional and sustainable economic cycle.
Watch a film about Mathias Schilling
Contact Information
 Archäo Tour Rügen – Natural History Hikes
Already in her childhood Dr. Katrin Staude was fascinated by the numerous cultural monuments of Rügen. With this passion she completed her study in archology, ethnology and geography.

After she gained professional experience as a museum educational and excavation manager, she decided to found the company Archäo Tour Rügen. Here she offers professional natural history hikes, workshops and educational vacations.
Guests of the Jasmund National Park can experience the landscape and its particularities in a very special preserving way. Not only geological or botanical features play an important role, but also the archaeological and historical development over the past millennia.
There are numerous archaeological monuments from different epochs in the Jasmund National Park, such as the imposing large stone tombs from the Neolithic Age, burial mound necropolises from the Bronze Age or ramparts from the Slav period.
Archäo Tour Rügen wants to protect and preserve not only the natural but also the cultural heritage with its offers to nature-interested visitors and guests in order to preserve these unique values for us and our descendants.
Contact Information
Nature by Andreas – Outdoor Experiences
Nature By Andreas works all year round with outdoor experiences in all imaginable environments. The company guides expeditions on mountain tops in distant countries, makes awesome 3-course meals over the open fire, together with business groups or private parties. The food is guaranteed to be luxurious and they use local and ecological ingredients.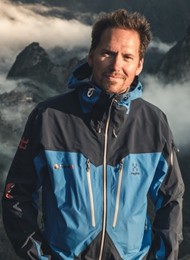 – We educate and guide in the mountains, in kayaks on the water and with diving gear under the surface, says director Andreas Mattisson.
Nature by Andreas
• uses ecological and/or local produce
• focuses on vegetarian food for the key part of their outdoor cooking experiences
• does not use bottled water
• does not use non-recyclable items
• minimizes the use of plastic
• separates at source all rubbish
• composts
• goes by train or electric car when travelling outside in the county
• climate compensates by supporting The Gold Standard project.
Contact Information
Nature By Andreas
Andreas Mattisson
+46 707 15 63 71
info@naturebyandreas.se
Nature by Andreas
Instagram @naturebyandreas
Jaich's Waterpark on the Island of Rügen
More than 35 years ago, Till Jaich's family founded the company im-jaich, which is still family-owned today and partially managed by his brothers and himself.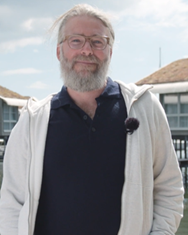 Among lots of marinas on the German North and Baltic Sea coast, the diverse Wasserferienwelt on Rügen were established. This special holiday facility in Lauterbach is a recognised partner company of the Southeast Rügen Biosphere Reserve.
The corporate strategy in sustainability aims to reduce consumption of resources and energy, including the preferred use of environmentally friendly products and compensation through sensible environmental activities. This commitment has already achieved results:
The company's energy center in Lauterbach was recognised as the best practice of the Rügen bio-energy region.
The water holiday world on Rügen is listed by the BUND, NABU and DB as "Destination Nature".
We have received the "Swallow-friendly holiday apartments" award from NABU.
In cooperation with Prima-Klima we have created our own company forest.
Measures and activities:
Reduction on resource and energy consumption, example: use of low-packaging products and solar energy.
Use of ecological or regional products, example: regional producers of vegetables, meat and fish, textile shopping bags, reusable coffee to go cups.
Enhance environmentally conscious behaviour, example: arrival by train promoted, rental bike station, charging stations for electric cars.
Contact Information
Kursio Legendos – Old Ship Excursions
VSI Kursiu legendos organization is the one and only provider in the Curonian Spit, who offers excursions in the Curonian Lagoon with an old ship – Kurėnas. It is a traditional wooden type of flat bottom boat that was used in the Curonian Spit centuries ago.

Moreover, the company organises one of the most expectative events of the year – Nida half-marathon, which is always during off-season, in the middle of the autumn.
– A tour with the old ship Kurėnas – Kuršis is the traditional boating from a long time ago, so we are presenting our cultural heritage and the history of Curonian Spit for the visitors.
Our annual running event helps not only to extend the summer season but also motivates people to do sports as well as gives rise for physical activity and running as a way of a healthy lifestyle, says director Aurelijus Armonavičius.
Contact Information
VSI Kuršių legendos
Director: Aurelijus Armonavičius
Naglių street 3-4, Neringa
LT-93123
+37068665242
aurelijus@elch.lt
AB audiola Develops Multimedia Experiences
The driving force behind the company, which is run by the owner Ola Hallqvist, is to create efficient, fun, interesting and new ways to tell a story. Always with the recipient and the target group in focus.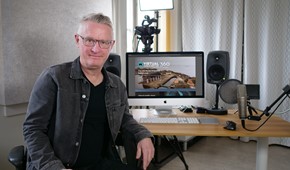 The Virtual World Heritage 360 is a good example of how new and exciting storytelling techniques in combination with an interesting and well-prepared content can create both experiences and learning.
AR, VR and similar techniques will revolutionize both education and virtual experiences in the years to come.
AB audiola has had a focus on sustainability, recycling and reusability for a long time. Digital technology and the internet give us completely new opportunities to experience the world around us. Without travelling and without wearing down fragile destinations and areas. Even here the Virtual World Heritage 360 is a good example.
In addition, AB audiola works with digital meeting techniques/methodology within the company and for external customers. One effect of this is that travelling by AB audiola has decreased drastically in the last couple of years. Not least when it comes to air travel.
Contact Information
AB audiola
Ola Hallqvist
+46 708 190 280
ola@audiola.se
Audiola.se
Fregatten B&B by the Baltic Sea
Fregatten Bed & Breakfast is situated on the picturesque peninsula Björkholmen in the centre of Karlskrona, Sweden.
The charming house is only 50 meters from the Baltic Sea and offers four Double rooms, a Lounge with a tiled stove, a small library, Sauna & Relax room and a small yard with outdoor sitting areas.
– We try to run our little B & B as sustainably as possible, says owners Lillian Broms Johansson and Kåre Johansson.
Examples of how Fregatten B&B works with sustainability:
Geothermal heating
Solar cells on the Roof
LED lights
The sorting of waste and recycling
No use of individual small food packages
Bake their own bread
Wash linen and towels to avoid transports 
Contact Information
Fregatten Bed & Breakfast
Fregattgatan 27
371 36 Karlskrona, Sweden
+46 0()70 38 57 032 or +46 ( 0)70 38 57 757
info@fregattenbnb.se
Fregattenbnb.se
Ratiocalor Reduces your Energy Costs
Through a thorough analysis of your company's energy consumption and a holistic optimization based on this analysis, ratiocalor specializes in reducing your energy costs.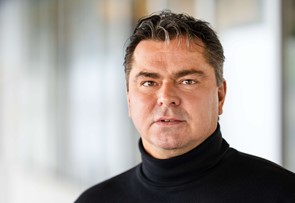 Energy is a major cost factor for many companies. Expenses for lighting, heating, cooling and production energy will continue to rise in the future. The dependence of the national economy on both domestic and foreign energy monopolists will continue for the foreseeable future. 

One of ratiocalor's guiding principles is: "Sustainable improvement in energy consumption conserves resources and contributes to climate change."
– Customers think their heating works because it gets warm. But that's only one aspect of it. Another is that it runs efficiently. And that's not true of most systems, says owner Michael Donath.
Experts have made more than 300 analyses in the last three years – hence the data. The number of inquiries is increasing, and not only because companies want and need to save on fixed costs.
– When it comes to energy, there is great potential for savings. Hoteliers usually think that a well-run hotel must also consume a lot of energy, but that's not true, says Michael Donath.
Contact Information
ratiocalor Energiedienstleistungen GmbH
Alter Holzhafen 19
23966 Wismar
+49 (0)3841 – 389 00 22, +49 (0)3212 – 77 14 830 (Fax)
info@ratiocalor.eu
ratiocalor.eu
Anni Christina's Horse Business in Southern Öland
Anni Christina Olsson has run her company since the summer of 2018 and has recently hired her first employee. She has a riding school, arranges riding tours, offers private lessons and training and boarding of horses.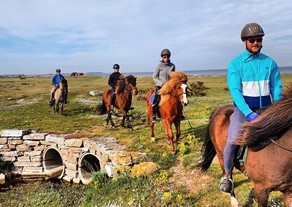 – I have a varied business, which makes it more fun for me to run the company and is positive for the horses. They get a sustainable work environment where it some days is easy riding and other days more physical work.
Sustainability is very important for Anni Christina Olsson and her company. It is not just about the horses feeling good but also about the pastures not being overburdened and reusing materials during renovation.
She is inspired by other entrepreneurs who have found sustainable and smart solutions for their business.
– In the future, I hope to be able to take better care of the rainwater. The plan is to collect it in large tanks and then pump it out in a hose and water the riding arena when it is dry in the summer. I also want to install filters so that the rainwater can be used as drinking water for the horses.
Contact Information
Norra Kvinneby 218
Mörbylånga
+ 46 709 23 6441
info@annichristinaequestrian.se
Annichristinaequestrian.se
Opening hours: 08:00 - 18:00
Arvegård Vision – Perpetuates Öland's Animals and Nature
Staffan Arvegård is a nature and landscape photographer who lives and finds his motifs in the Agcricultural Landscape of Southern Öland.
– There is a lot for everyone to experience here. The plants, the bird life, the beach meadows, agriculture, the linear villages and Alvaret.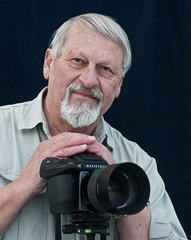 Staffan Arvegård works with photo exhibitions, slide shows, films and photo assignments. He collaborates with a journalist on Öland and together they have published two books. Their next project is about photographing and interviewing women from Öland, as a way to draw attention to the fact that in 2021 it is a hundred years ago since women in Sweden got the right to vote. The project will result in an exhibition at Öland's museum, Himmelsberga in the summer of 2021.

A great commitment to nature and the environment permeates Staffan's life. He is trained in environmental issues and, among other things, has worked as an environmental manager in a municipality. Both as a private person and when he takes assignments as a photographer, the idea of sustainability is included.

– Privately, I minimize my waste. I sort everything and do not have to leave anything in the bin. As a photographer, I have a lot of equipment and sometimes need to drive. Then I plan my trip carefully to reduce car use.
Contact Information
Arvegård vision
+ 46 73 398 11 98
staffan.arvegard@gmail.com